Products - Distribution Automation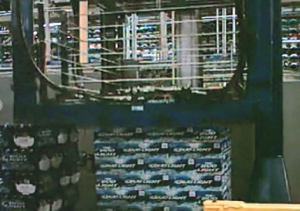 This unique product is designed to automate distribution of beverages and other products that are shipped to retail stores that are not able to receive full pallet deliveries of consumer goods. The photo to the right (or above, on a mobile device) is from LA's largest beer distributor that was able to reduce manpower from 36 to 3 people per shift. Click here or on the photo to watch a video demonstration.
Prior to purchasing this system from Best Automation & Robotics, 36 employees used fork trucks and pallet jacks to hand pick customer orders from printed sheets and stack them on pallets. The manual process resulted in high employee turnover and many workmen comp claims.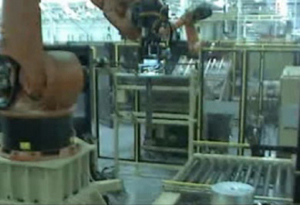 Line supervisor usage reports are uploaded from SAP and used to generate pick orders for each production line. Rolled product is de-palletized using 3D vision, inspected for defects and label verification and placed on tuggercarts. AGVs Then deliver the carts to the production line. These two cells are capable of picking from 1100 SKUs and replaced 34 operators a shift with 3. Pick data is then uploaded to the inventory management software.
Click here or on the photo to your right (above on a mobile device) to watch a video demonstration.