Products - Pharmaceutical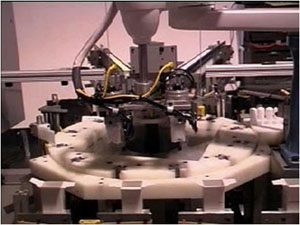 Carton Loading: Vials and inserts are staged in a dial indexer and loaded into a moving carton machine. Click here, or on the accompanying image, to watch a video demonstration.
IV bag sterilization, date lot & label, print content inspection including packaging of sleeves and palletizing. More than 64 lines automated for Baxter and Abbott labs.
Blood recovery and sterilization projects for Baxter Healthcare's synthetic blood substitute (never FDA approved for sale).
Partial Customer List
Abbott Labs
Bayer
Baxter Healthcare
Fugisawa Pharmaceutical
Pfizer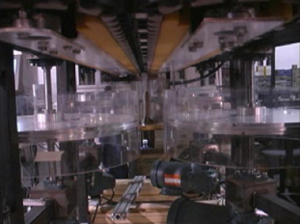 IV Bag Handling & Inspection
IV bags are unloaded from sterilizer trays, inspected and loaded into cases for shipment.
Click here to watch a video demonstration.
IV Bag Material Handling & Sleeve Load & Seal
Trays of 50ml IV bags are tracked with a vision system, picked and loaded into a sleeve packing machine. Best Automation & Robotics has provided automation for IV products from 25ml to 2 liters.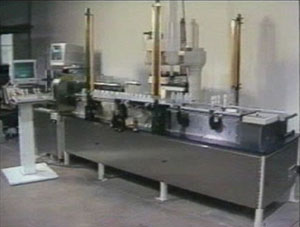 Bottle Inspection & Tray Loading
Various size vials and bottles are received from filling, inspected for date and lot code then packed into process trays.